L'AQUAPHILE is a manufacturing and sales company established since 2006 by Pierre and David Adrian.
L'AQUAPHILE is fully dedicated to innovation, and creates products unique in the world, from the initial idea to the market, through all the intermediary steps of concept, prototypes, testing and validating, manufacturing, marketing ans sales.
Its areas of excellence are the marine renewable energies (water power) and water sports (water lover).
It provides also consulting and training.
David Adrian is a former French Navy Officer, engineer from the Naval Academy and MBA HEC.
After 18 ans in the French Navy, most of the time in the French Navy Seals unit "Commando Hubert", which he has been the commanding officer, he worked for big industrial companies mostly abroad.
Since long passsionate by sea and innovation, he now fully dedicates his time and efforts to the development of innovative technologies, and consulting.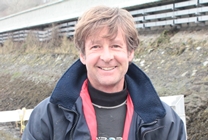 NEWS
Carte de voeux 2018 de L'Aquaphile:
Carte de voeux 2018 de L'Aquaphile:
Thank you for being so numerous to come to see the PEDAYAK while its launch in Paris at Nautic 2017, and try it on the large indoor pool.
And, of course, to end the year in style : PEDAYAK, VELOSUB,
SUBALO, EAZYDIVE were all in Paris for the NAUTIC 2018!
PEDAYAK, EAZYDIVE, VELOSUB & SUBALO were happy to meet 
you at the Nauticales in La Ciotat from 23 to 31 march 2019. 
You have been a lot to enjoy the free testings in the harbour.  
The new products on display on the Aquaphile stand released at 
the biggest nautical event in France, the Nautic from 7 to 15 
December 2019 in Paris : New hookah Eazydive, Pedayak DUO, 
Pedayak with its sail.
L'Aquaphile at the BOOT in Dusseldorf, the biggest boat show in Europe, from 18 to 26 of january 2020.
During the Coronavirus sanitary crisis, L'Aquaphile continues its activities. All means are implemented to allow our customers to enjoy our products especially during the summer season.
On the 23 septembre 2018, PEDAYAK participated to the famous LYON KAYAK, the biggest kayaks race event in France.
Du 5 au 7 octobre 2018, PEDAYAK participated to the Paddle Expo show in Nuremberg (Deutschland).
All our best wishes and season's greetings pour 2020
Swap the mouse on the card to enlarge.

We are looking for importers and commercial agents.
Please contact us: contact@aquaphile.fr
End of the confinement in France: David-L'Aquaphile offers you (again) a rock song : Titanic rock !
Click on the image to see the video :

L'AQUAPHILE will be present at the Grand Pavois in La Rochelle from 29 september to 4 october 2020.
L'AQUAPHILE will be presentat the Cannes Yachting Festival from 8 au 13 september 2020. Come and meet us!